The 2018 Chris Sailer Kicking Spring Tour made a stop in New Jersey on Sunday, April 29th. The camp took place at Hopewell Valley Central High School and featured participants from NJ, NY, VA, PA, OH, MD, and SC.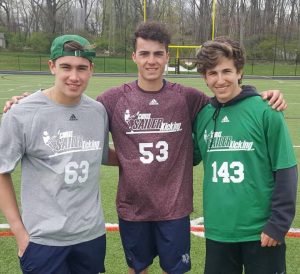 Overall Champion – Evan Warren (2020, MD)
Evan dominated on FG's from start to finish winning both FG competitions. He he also showed the ability to Kick-off driving a couple of balls 65+ yards.
Kick- Off Champion – Aidan Mulreed ( 2018, NJ)
Aidan had a solid day kicking off.  Winning the competition with a ball 60 yards and a 3.82 hang. He also showed he had the ability to hit field goals with great height off the ground.
Punt Champ – Sebastian Constantini (2019, NJ)
Sebastian had a very consistent afternoon punting which allowed him to win the competition with a punt over 4.4 hangtime. Sebastian is a also a very talented Kick off guy. He is a very good kicker who showed his D1 ability on KO's by taking the top hangtime of the day.  His best ball of the day measured 58 yrds, with 4.05 hangtime.
Top Newcomers
Chris Clark (2020) is a very talented young kicker that has a lot of potential for his age. Gets great height on his field goals off the ground. As he continues to work his form he will be someone to watch in the future.
2019 Standouts: Than Hylen, Lake Garrett, Sam Hogan & Sebastian Constantini
2020 Standouts: Evan Warren, Adam Heston, Nick Basile, Casey Barrel & Chris Clark 
2021 Standouts: Luke Wayson & Tommy Dellaporta
The 2018 Chris Sailer Kicking Spring Camp Tour finishes up this Sunday in Los Angeles, CA (May 6) and concludes with the big finale in Las Vegas on May 12-13, 2018. To more information and to register for future camps, visit ChrisSailerKicking.com
Then get ready for the summer of 2018….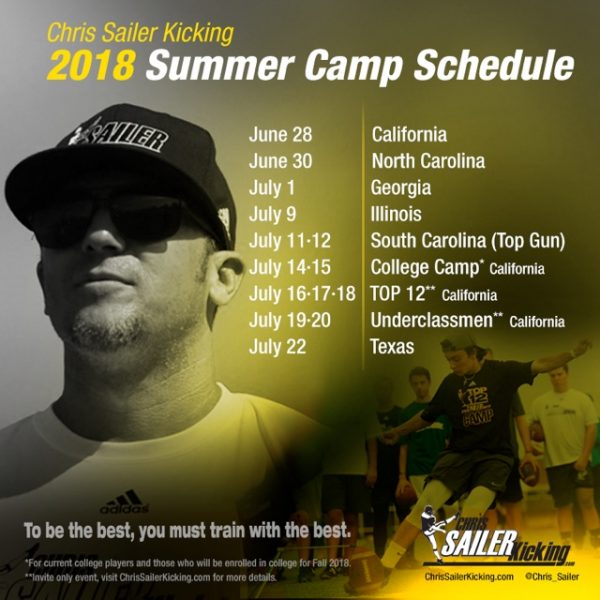 (268)