WHAT is a Fall Regional Camp?
These are a 1-Day camps held in major cities across the US every Spring, Summer and Fall season. Camp includes instruction, video analysis, competition, evaluation and national rankings with Chris Sailer Kicking. These are our most popular all around camps. Camps run from 8:30am to 5:00pm. Registration is open to ALL levels. Registrations are accepted on a first come, first serve basis. There is great value for all ages and skill levels. Every Kicker/Punter that attends the camp will get the most exposure possible to college coaches.
WHY?
Get top notch instruction and enjoy great competition while getting the most exposure possible for Kickers/Punters. Each Kicker/Punter will receive a player profile (included in the cost of the camp). All results will be blasted throughout the world to reporters and college coaches on social media and by email.
WHEN & WHERE?
Sunday, October 6th – Charlotte, NC
Register Here
Sunday, October 13th – Holmdel, NJ
Register Here
Sunday, October 20th – Seattle, WA
Register Here
Sunday, October 27th – Los Angeles, CA
Register Here
Sunday, November 17th – Dallas, TX
Register Here
Sunday, November 24th – Atlanta, GA
Register Here
Sunday, December 8th – Danville, CA
Register Here
Sunday, December 8th – Gilbert, AZ
Register Here
Sunday, December 15th – Midwest, USA
Register Here
SAVE THE DATE FOR VEGAS XXXV
Saturday & Sunday, January 18th & 19th, 2020 – Las Vegas, NV
**Registration will open for all 2020 camps in late August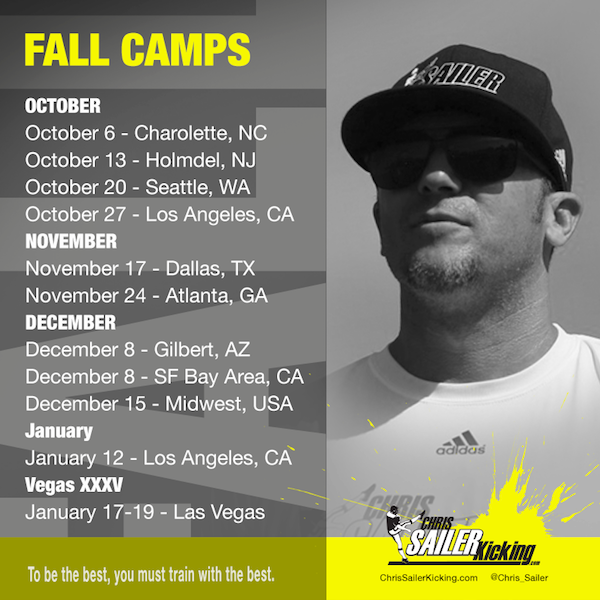 (192)