The Road to Vegas XXXIII continued with a stop in Dallas, TX on Sunday November 18. The largest fall camp to date boasted many of the nation's best. Well over 100 specialists from 10 plus states were in attendance ready to learn and compete at the highest level. The talent was off the charts. Many in attendance will challenge for a TOP 12 spot at Vegas XXXIII in January. The competitions were beyond competitive. Take a look at the results.
Overall Champion – Noah Rauschenberg (2019, OK)
The TOP 12 Selection, TOP 12 Camp Kickoff Champion and now 2-Time TX Champion had another outstanding performance. He won a major field goal and kickoff competition. Noah went 9-9 with a long of 57 yards on field goal. He averaged 70+ yards with 4.0+ hang time on kickoff. He also punted very well. Noah is the absolute best uncommitted high prospect remaining in the Class of 2019. He will dominate the college level. OFFER NOW!!!
Field Goal Champion – Gino Garcia (2019, TX)
Gino was simply outstanding at his first Chris Sailer Kicking camp. He won a major field goal competition by going 8-8 on field goal with a long of 57 yards. He also advanced into the finals round on kickoff. Gino has a strong leg and kicks with nice technique and consistency. He is a competitor that does very well under pressure. Look for Gino to dominate Vegas XXXIII. College football is in his future.
Kickoff Champion – Seth Keller (JC, TX)
Seth was solid from the start to end. He won the a major kickoff competition by driving the ball deep into the end zone with nice hang time. He was also clutch on field goal. Seth hits a clean ball and has 55+ yard range. He proved very quickly that he is a top junior college prospect. Seth has all the tools to take his game to the 4-year college level.
Punt Champion – Micah Hertz (2019, CA)
Micah had his third straight excellent performance at a 2018 Chris Sailer Kicking Fall Camp. On this day he won a major punt competition by averaging 40+ yards with 4.3 hang time. Micah continues to prove that he is one of the most consistent punters in America. He is also very strong kicker. He does a great job on both field goal and kickoff. Micah is going to make a fine addition to a college football program.
Punt Champion – Cody Waddell (TR, TX)
Cody is a big, tall, strong and athletic punter. He won a major punt competition by defeating many strong punters in head to head competitions. He shows that he can hit a D1 level ball. With continued hard work he will compete at the FBS level. The tools are there to be very successful. I look forward to seeing what the future holds for Cody.
Class of 2019 Standouts: Noah Rauschenberg, Micah Hertz, Gino Garcia, Seth Keller, Cody Waddell, Daniel Esparza, Aaron Dozier, Alan Rodriguez, Alan Guerrieri, Aleric Hernandez, Austin Dennis, Cole Miller, Erik Michel, Ethan Schroeder, Grant Shaw, Pedro Yeverino, Sawyer Evans, Ty Warwick
Class of 2020 Standouts: Tabor Allen, Jake Ruiz, Reis Vernon, Sam Massick, Rhett Thruman, Aidan Schiefer, Andrew Espindola, Anthony Ziegler, Brandon Peskin, Carlos Villagomez, Carson Roberts, Chris Clark, Colby McBerty, Colin Campbell, Curtis Falkenburg, Elliot Glatman, Grayson Norwood, Landon Brankvik, Mason Shipley, Matthew Shipley, Nico Ledesma, Noah Sedam, Reed Kieny, Rich McDermott, Tanner Cragun, Zack Lafargue
Class of 2021 Standouts: Joseph McFadden, Bert Auburn, Francisco Castillo, Aaron Wagaman, David Kemp, Ethan Spearman, Hays McCannon, Joshua Levin, Keaton Huff, Michael DeMirjyn, Roberto Diaz, Ty Reid
Class of 2022 Standouts: Christian Alvelar, Daniel Campuzano, Hampton Hile, Jake Krause, Kylan Dupre, Nolan Krinsky, Brynden Southworth
Future Stars: Ethan Brumgard, Cameron Posada, Clark Lemmermann, Kyle Lemmermann
The 2018 Chris Sailer Kicking Fall Camp Tour will continue with stops in Atlanta, GA (December 2), Phoenix, AZ (December 2), Chicago, IL (December 9) & Los Angeles , CA (January 13). The road all leads to Las Vegas, NV for Vegas XXXIII where the world's best will compete for an in invitation to the prestigious TOP 12 camp. For more information on the above recruits and future camp information visit www.ChrisSailerKicking.com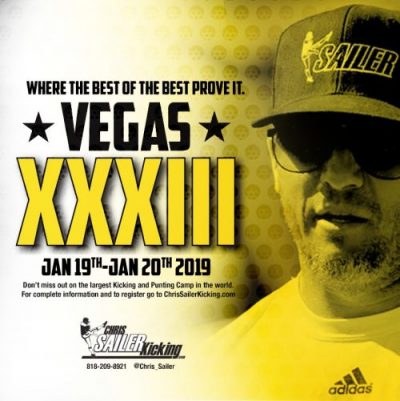 (582)