The 2019 Chris Sailer Kicking Fall Camp Tour continued this past weekend in Atlanta, GA. This Fall CSK along with Rubio Long Snapping will make stops in NC, NJ, WA, Southern CA, TX, IL, AZ, GA and Northern CA on the road to Vegas XXXV (January 18-19, 2020). All in all 1300+ Specialists are expected to participate in the largest season circuit in the history of the company. At the end of it all, Chris Sailer Kicking will once again name the 1st 20 Kickers/Punters selected to participate in the prestigious TOP 12 Invitation Only Camp at Vegas XXXV. And for the first time ever, Chris Sailer will select 2 Kickers and 2 Punters to play in the All-American Bowl on NBC live on location at Vegas XXXV. Hang on as this is going to be an incredible ride.
Take a look at the results from GA…
Overall Camp Champion
Caleb Bonesteel (2021, GA) – Chase had his best performance yet at a Chris Sailer Kicking camp. The long time CSK Kicker was impressive on field goal from start to finish. He won the Field Goal Competition by going 5-6 with a long of 54 yards. He then won the Finals Round by nailing back to back 50 yard field goals. Caleb was also strong on kickoffs. He has a bright college future with continued hard work. Look for Caleb to compete with the best of the best at Vegas XXXV.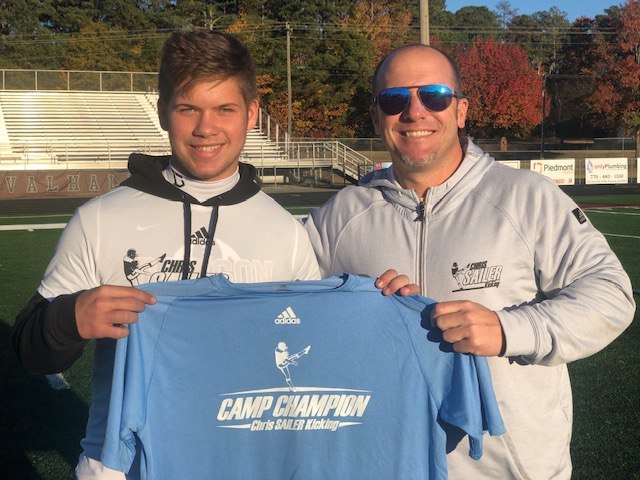 Kickoff Champion
Caden Costa (2021, LA) – Caden continues to prove that he is one of the very best prospects in America in the Class of 2021. He won the Kickoff Competition by averaging 65+ yards, with 3.85+ hang time. His best ball measured 65 yards, with 4.19 hang time. He was also excellent on field goal. Caden get the ball up well and and easily has 55 yard range. Look for Caden to dominate Vegas XXXV and compete for a TOP 12 Spot.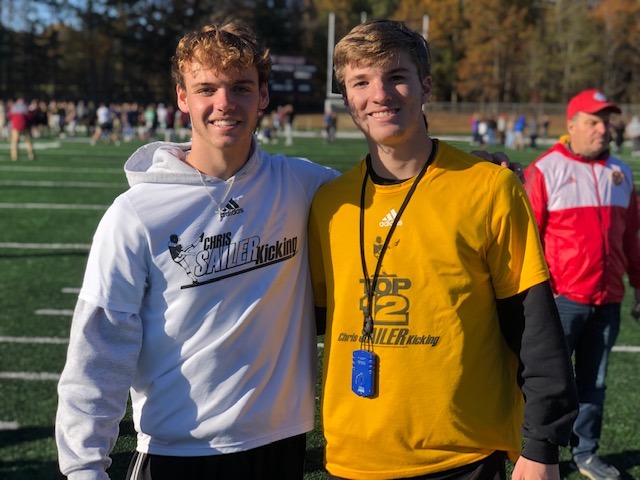 Punt Champions
Braeden Haynes (2021, TN) – Braeden has been a model of consistency at Chris Sailer Kicking camps for several years now. He won the Punt Competition by averaging 40+ yards, with 4.0+ hang time. He was solid and consistent on field goal all day. Braeden also did very well on kickoff. He has all the the tools to be and excellent combo player at the next level. Braeden has a bright future with continued hard work. Look for him to do big things at Vegas XXXV.
Bradley Cass (2021, GA) – Bradley did very well at his first Chris Sailer Kicking camp. He won the Punt Competition by being one of the more consistent performers at camp. He is a great looking athlete with nice future college potential. Bradley averages 40+ yards with solid hang time. I look forward to helping him develop his game over the next few years. Keep a close eye on him at Vegas XXXV. He could be a breakout candidate.
Junior College / Community College / Transfer Standouts: Greg Torcaso, Christian Pressley, Jordan Buice.
Class of 2020 Standouts: Parker Hannon, Brandon Peskin, Aidan Hosler, Christian Mather, Connor Cross, Ezra King, Cooper Neal, Jenkins Peeler, Kade Loggins, Will Zamboni, Aaron Prado, Colby Gann, Trey Wilhoit III, Holton Kennedy, Hunter Grant, Tony Rivas, Paxton Robertson.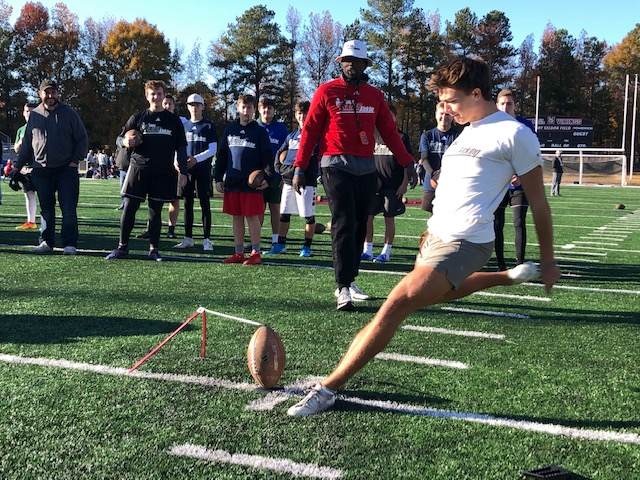 Class of 2021 Standouts: Caleb Bonesteel, Caden Costa, Braeden Haynes, Bradley Cass, Daniel Bethel, Korben Waldrop, David Jenrath, Connor Cummins, Dalton McGowan, Darren Bredeson, David Vales, Drake Tabor, Henry Koch, Jack Satterfield, Joey Wood, Trace Hrgich, Tyler Robertson, Tyson Giles, Connor Marke, Ben Kendall, Brent Beach, Caden Baughman, Carter Branim, Colby Dumbra, Jacob Jenkins, Jacob Pierce, Kolby Morgan, Maddux Trujillo, Sam Lawrence.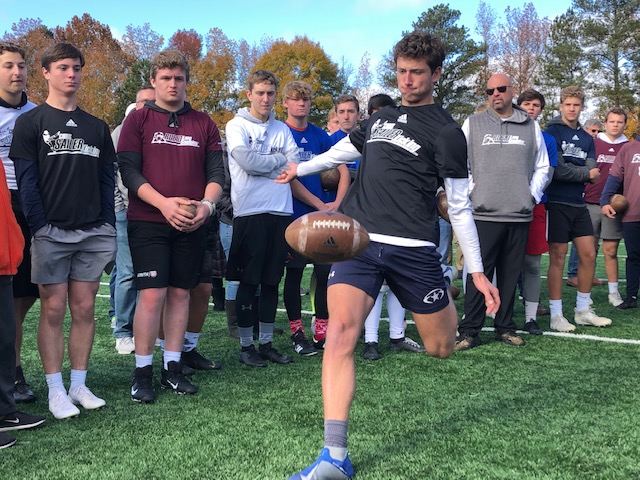 Class of 2022 Standouts: Anderson Britton, Alejandro Mata, Trey Stephens, Brooks Sturgeon, Bennett Abbe, Andrew Scott, Garrison Rippa, Bryce Addison, Nicholas Limberis, Jack Brooks, Tripp Shipman.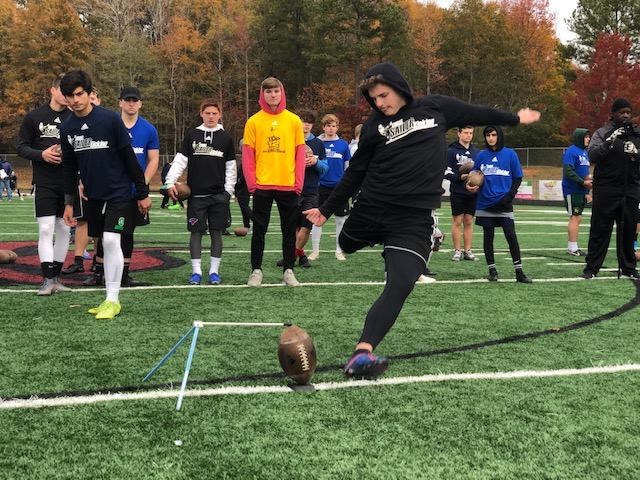 Class of 2023 Standouts: Harrison Brooks, Guillermo Vales, Ty Miller, Alex Nolen, Benjamin Keene, Hayden Futch, Mack Mikko, Michael Smith, Nick Troemel, Trent Hartung, Tyler Simpson.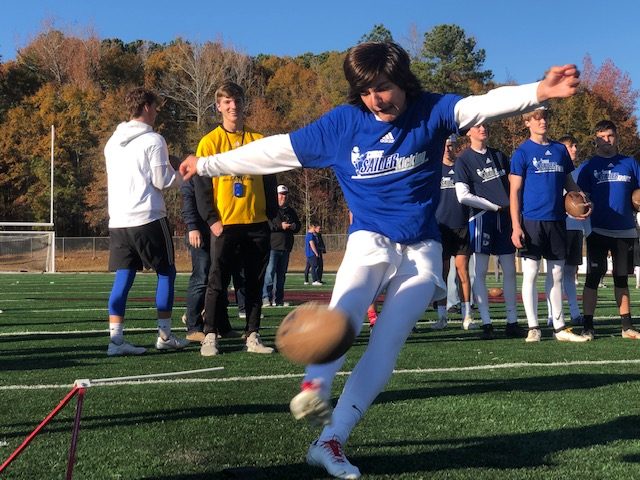 Future Stars: Bobby Engstler, Jake Kelley, Jake Spadavecchia, Tyler Denny, Luke Windham, Zachary Pierce.
For more information including Future Camps and Chris Sailer Kicking's National Rankings, visit ChrisSailerKicking.com
See you soon at an upcoming Chris Sailer Kicking Camp!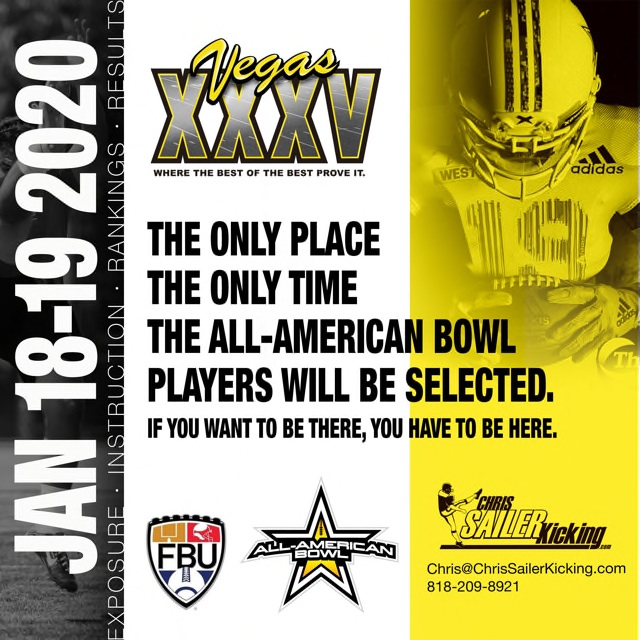 (613)