The 2019 Chris Sailer Kicking Fall Camp Tour continued this past weekend in Chicago, IL. This Fall, CSK along with Rubio Long Snapping has made stops in NC, NJ, WA, Southern CA, TX, IL, AZ, GA and finally Northern CA on the road to Vegas XXXV (January 18-19, 2020). All in all 1300+ Specialists are expected to participate in the largest season circuit in the history of the company. At the end of it all, Chris Sailer Kicking will once again name the 1st 20 Kickers/Punters selected to participate in the prestigious TOP 12 Invitation Only Camp at Vegas XXXV. And for the first time ever, Chris Sailer will select 2 Kickers and 2 Punters to play in the All-American Bowl on NBC live on location at Vegas XXXV. Hang on as this is going to be an incredible ride.
Check out the results from IL…
Overall Camp Champion
Cameron Shirkey (2020, OH) – The TOP 12 Member once again came through with another huge performance. On this day he won the field goal competition by hitting on 7-8 with a long of 54 yards. He also averaged 65+ yards on kickoff, with 3.9+ hang time. Cameron is a gamer that excels under pressure. He continues to prove time and time again that he is ready for D1 football. OFFER NOW!!!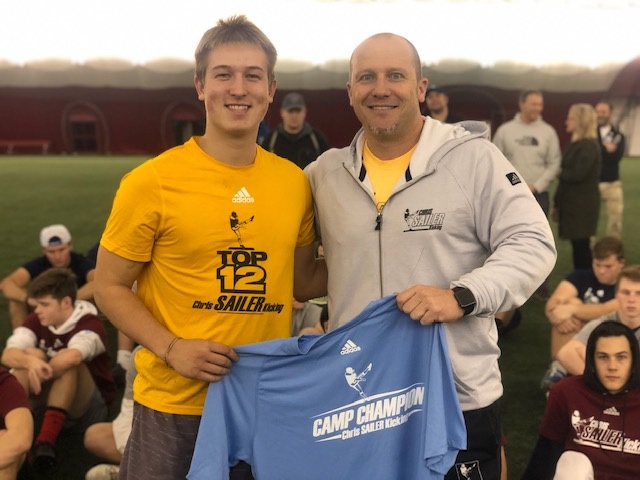 Kickoff Champion 
Kanon Woodill (2021, IL) – Kanon had a fantastic first camp with Chris Sailer Kicking. He is a great athlete with a live leg. He won the kickoff competition by averaging 65+ yards with 3.85+ hang time. His best ball measured 70 yards with 4.06 hang time. Kanon was also excellent on field goal. He gets the ball up well off the ground and easily has 50+ yard range. Look for Kanon to dominate Vegas XXXV in January and challenge for a TOP 12 Spot.
Punt Champion 
Garrett Junk (2021, OH) – Garrett proved from the start that he is a big time D1 Prospect. He is a great looking athlete with an ideal D1 Punting frame. He won the punt competition by averaging 40+ yards with 4.4+ hang time. His best balls measure 50+ yards with 4.8+ hang time. Garrett has all the tools to compete with the best punters in American in the Class of 2021. He is ready to compete with the best of the best at Vegas XXXV in January and should also challenge for a TOP 12 Spot.
Punt Champion
Cade Backe (2020, IL) – Cade was strong and consistent all day long. The senior is an excellent punter that is ready for the college level. Cade averages 40+ yards with 4.25+ hang time. His has quick hands and gets the ball off efficiently. Cade is also a solid kicker. Cade is one of the top punters in the nation that is ready to step in and compete at any college level.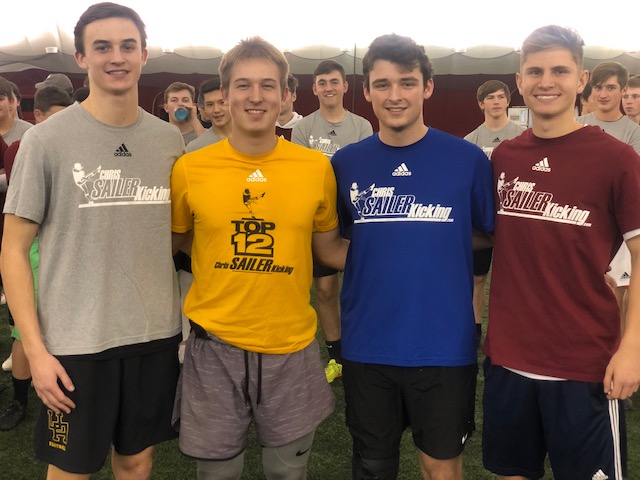 Class of 2020 Standouts: Cameron Shirkey, Jack Olsen, Cade Backe, Bryce Bedillion, Aidan Hosler, Cade Gold, Morgan Williamson, Peyton Benes.
Class of 2021 Standouts: Garrett Junk, Kanon Woodill, Teagan Lenderink, Jack McCallister, Joshua Lopes, JT Carver, AJ Rhodes, Bryce Morris, Connor Saunders, Derek Baldin, Dougie Zang, Franklin Rogers, Jackson Erminio, Luke Theeuwes, Mark Holder, Marlon Pomili, Matthew LeBlanc, Matthew Wilderson, Noah Spratt.
Class of 2022 Standouts: Kylan Dupree, Enzo Diomede, Ben Samuel, Zac Yoakam, Louie Gatlin, Aleks Maric, Jason Ahlstrand.
Class of 2023 Standouts: Lucas Moseley, Colin Fratus, Ryan Millmore, Tyler O'Connnor.
Future Stars: Britton Carver, Leo Capparelli.
For more information including Future Camps and Chris Sailer Kicking's National Rankings, visit ChrisSailerKicking.com
See you soon at an upcoming Chris Sailer Kicking Camp!
(480)