The 2018 Chris Sailer Kicking Spring Camp Tour made its most recent stop in what has become the hotbed for high school kicking and punting talent… Atlanta, GA. The Atlanta regional camps produced the most talent in the Class of 2018 last year and the future looks just as bright. Well over 100 specialists were once again in attendance representing nearly 15 states. Becoming the champion of this camp has become one of the tallest tasks on the Chris Sailer Kicking tour. Take a look at the results.
Overall Camp Champion – Jay Bramblett (2019, AL)
Jay was absolutely on fire once again from start to finish. The #1 ranked Punter in the nation, TOP 12 Camp Invitee and now back to back GA Camp Champion is a big time D1 prospect. He is an incredibly gifted athlete with an explosive leg. He easily averages 45+ yards with 4.6+ hang time. His best balls measure 50+ yards with 5.0+ hang time. Jay is a scholarship pick without a doubt. Look for him to pick up multiple D1 offers very soon. OFFER NOW!!!
Field Goal Champion – Ryan Fitzgerald (2019, GA)
The Chris Sailer Kicking 2017 1st Team All-American Kicker proved once again exactly how he was able to earn that honor. Ryan won BOTH of the major field goal competitions versus stiff competition. Winning one competition would have been difficult, winning two is nearly impossible. Ryan came out on fire in the afternoon during competitions hitting 100% of his kicks including multiple 55+ yarders. Ryan is going to be an outstanding college kicker. OFFER NOW!!!
Kickoff Champion – Miled Mourad (Transfer, FL)
Miled enjoyed great success at his first Chris Sailer Kicking camp. He has a live leg and shows great promise on both field goal and kickoff. On this day he won the kickoff competition by averaging 70+ yards with 3.7+ hang time. His best kick sailed through the uprights with room to spare.
Top Newcomer – Cory Munson (2019, GA)
Cory is an impressive Class of 2019 prospect. He is a great looking athlete with explosive leg. As a junior in high school this past season he connected on 23 field goals with a long of 59 yards. He proved that he can compete with the best. Cory has 55+ yard range on field goal off the ground. He gets D1 height on his ball and does well under pressure. His kickoffs are also strong and he also shows nice punting potential. Look for Cory to challenge for a TOP 12 spot at Vegas XXXII.
Top Class of 2018 Prospect – Michael Owen (2018, GA)
Michael is a very talented Combo (K/P) Specialist. He shows he can hit a college level ball at times on field goal. His "A" ball is fantastic. His kickoffs average 60+ yards with solid hang time. Punting might end up being his best college position. He shows he can hit a big ball and he has the size and athleticism to develop in this area. Michael is is a pleasure to work with and will make a fine addition to a college football program.
Class of 2019 Prospects: Jay Bramblett, Ryan Fitzgerald, Cory Munson, Thor Billstrom, Noah Sheets, Andrew Ilken, Cade Davis, Gregory Blue, Jack Martin, Luis Garcia-Cano, Samuel Contorno, Zaden Webber, Travis Freeman, Hayden Hairston
Class of 2020 Prospects: Sam Massick, Brock Travelstead, Parker Hannon, Nolan McCord, Hayden Olsen, Mitchell Gallucio, Conner Middleton, Graham Gotlieb, Nicholas Bodin, Nick Hill, Ryan Barrick, Ty Sherman, Charlie Pollock, Cooper Neal, Hunter Grepiotis, Jude Kelley, Avery Musick, Parker Pierson, Tabor Miller, Tanner Robbins
Class of 2021 Prospects: Braeden Haynes, Dalton McGowan, Conor Cummins, Drake Tabor, Franklin Rogers, Peyton Engel, Darren Bredeson, Tyson Giles
Youth Future Stars: Will Peltz, Layten Crawford, Landon Brabazon, AJ DuBois, Trey Stephens
The 2018 Chris Sailer Kicking Spring Camp Tour continues with camps in Dallas, TX (April 29), New Jersey (April 29), Los Angeles, CA (May 6) and concludes with the big finale in Las Vegas on May 12-13, 2018. To more information and to register for future camps, visit ChrisSailerKicking.com
Then get ready for the summer of 2018….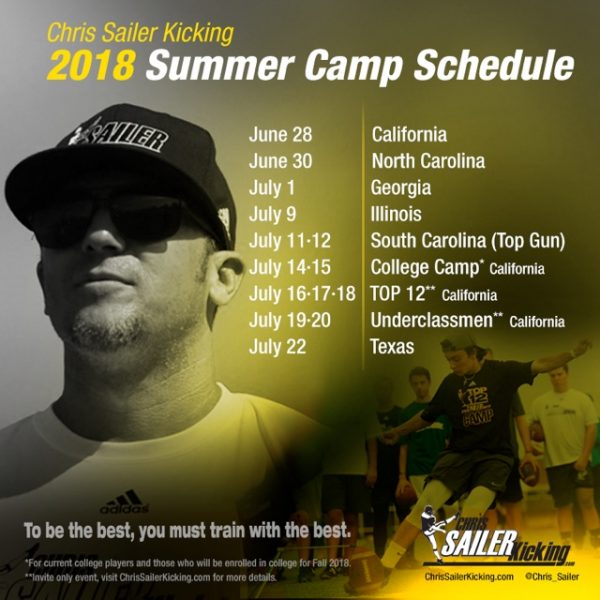 (538)