The Chris Sailer Kicking 2018 IL Spring Camp Tour continued with a stop in Chicago, IL on Saturday April 7th. Specialists from over 15 states were in attendance in one of the most competitive regional camps to date. Over a dozen specialists proved that they have a legitimate shot at making TOP 12 next month at Vegas XXXII (May 12-13, 2018). Take a look at the results.
Overall Camp Champion – Sam Massick (2020, OH)
Sam had of the most impressive camp performances at a 2018 Spring Camp to date. He won both of the major field goal competitions against 60+ competitors. Sam went a perfect 12-12 with a long of 55 yards. He also nailed a 50 yard field goal under intense pressure in the finals. Sam continues to prove that he is a top national prospect in the Class of 2020. Look for Sam to dominate Vegas XXXII and challenge for a TOP 12 spot.
Kickoff Champion – Chris Van Eekeran (2019, IN)
The Chris Sailer Kicking 2-Time TOP 12 Camp Invitee had another strong day in Chicago. He won the kickoff competition by averaging over 70 yards a kick with 3.7+ hang time. He was also excellent on both field goal and punt. Chris is one of the top 2019 prospects in the nation without a doubt. Look for him to have a huge off season impressing college coaches around the nation. He is a big time D1 prospect.
Punt Champion – Hunter Renner (2020, IN)
The longtime Chris Sailer Kicking combo specialist (K/P) had his best camp performance by far. He won the punt competition by averaging 40+ yards with 4.3+ hang time. He also hit multiple balls 50+ yards with 4.6+ hang time. Hunter was also strong on both field goal and kickoff. This camp should prove to be a game changer for Hunter. He is now a top combo prospect in the nation for the Class of 2020.
Top 2018 Prospect – Brandon Eickert (IL)
Brandon proved once again that he is ready for the collegiate level. He has a strong leg and kicks with excellent technique and consistency. Brandon has 50+ yard range off the ground on field goal. His kickoffs measure 60 yards with 3.5+ hang time. He is also strong mentally and does well under pressure. He is a fine young man that is going to make a nice addition to any college football program.
2019 Prospects: Chris Van Eekeran, Asa Kempton, Ben Freehill, Ben Packer, Michael O'Shaughnessy, Mason Lowell, Dylan Hillger, Carter LaCoursiere, Dmitri Shpak, Garrett Childers, Graham Dable, Tom Foley, Jack Ierulli, Griffin Cummins, Jared Wheatley, Joey Mitchell, Joseph Stoll, Kyle Farfsing, Luke Barresi, Mason Molique, Jack Takerian, Patrick Ayala, Tony Benish, Tyler Bachara, Logan Schmidt, Brendan Latham, Colin Scherry, Connor Seely, Jackson Welsch, Jax Egan, John Copeland, Zaden Webber, Zachary DeRoeck
2020 Prospects: Sam Massick, Hunter Renner, Cameron Shirkey, JJ Wadas, Jack Olsen, Jacob Moraschinelli, Marshall Meeder, Alex Brots, Ben Reppenhagen, Gabe Sirek, Cade Backe, Daniel Cristiani
2021 Prospects: Ivan Shuran, Tyler Rosselli, Derek Bass, Joseph Polina, Jack Dummer
Future Stars: Colby Bullock, Mason Gessert, Ryan O'Grady
The 2018 Chris Sailer Kicking Spring Camp Tour continues with camps in Atlanta, GA (April 22), Dallas, TX (April 29), New Jersey (April 29), Los Angeles, CA (May 6) and concludes with the big finale in Las Vegas on May 12-13, 2018. To more information and to register for future camps, visit ChrisSailerKicking.com

Then get ready for a tremendous 2018 Summer Schedule!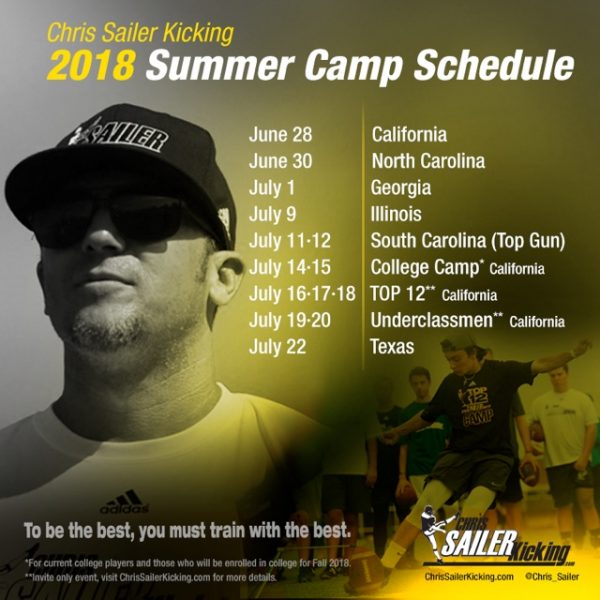 (723)