The 2018 Chris Sailer Kicking Spring Camp Tour is nearing its end. One of the final stops prior to Vegas XXXII was made in Dallas, TX on Sunday April 29. This location has been one of the most talented for many years now. Three TOP 12 camp invitees were in attendance and several others will be in contention come May 12-13 in Las Vegas. There was a fantastic blend of experienced CSK veterans and impressive newcomers. All in all, once again well over 100 specialists were in attendance ready to learn and compete. Take a look at the results.
Overall Camp Champion – Noah Rauschenberg (2019, OK)
Noah stepped up with a dominating performance in Dallas. The Chris Sailer Kicking veteran was on fire in all areas of his game from start to finish. On this day he won 2 of the 4 major competitions. He went 6-6 on field goal with a long of 60 yards to win the first field goal competition. He won the kickoff competition by averaging over 70 yards with 3.8+ hang time. His best ball measured 82 yards with 3.9 hang time (wind aided). He was also a punt finalist. Noah didn't miss a kick in the finals round proving to all that he is a major D1 prospect.
Field Goal Champion – Reed Kieny (2020, TX)
Reed had his best camp yet with Chris Sailer Kicking. He continues to get stronger and stronger and is growing in confidence with each camp he attends. He won the second major field goal competition by hitting 6 consecutive field goals with a long of 57 yards. Reed also impressed on kickoffs. He is on his way to a bright college future with continued hard work. Look for Reed to compete with the best in his class the next few years.
Punt Champion – Nick Hill (2020, CA)
Nick is a talented combo (K/P) prospect. He is a great looking athlete with a live leg. He focused on punting at this particular camp and it paid off. He averaged near 40 yards with 4.0+ hang time. Nick also showed the ability to hit 45+ yard punts with 4.4+ hang time. He won the major punting competition by staying consistent and outlasting a talented field. Nick has the potential to one day compete as both a kicker and punter at the college level.
Top 2018 Prospect – Alex Stadhaus (2018, TX)
The recent USC commit was stellar once again. Coming off a huge 2018 fall with Chris Sailer Kicking, he was dominant again in Dallas. He excels most on kickoffs where he averages 70+ yards with 4.0+ hang time. He also has the tools to compete at the next level on field goal. Alex is a hard work with a great head on his shoulders with a bright college future.
Top Newcomer – Joseph McFadden (2021, TX)
Joseph stood out immediately. He has a huge leg for his age and was competing with rising seniors with ease. He already hits a college level ball on field goal off the ground. Joseph also shows he can hit a big time kickoff. This is a name you will be hearing for years to come. I am excited to see what his future holds with Chris Sailer Kicking. He has the tools to be special.
2019 Prospects: Noah Rauschenberg, Carson Garrett, Bijan Nichols, Alex Felkins, Josh Plaster, Daniel Esparza (JC), Austin Dennis, Aleric Hernandez, Mason Lowell, Justin Seay, Austin Rychlik, Brady Obholz, Cameron Baller, Eathan Bernard, Javier Castillo, JK Martin, Cole Schroeder, Josh McCoy, Joshua Vela, Landry Poppen, Matthew Heffernan, Logan Lupo, Sam Younger, Steven Opella, Trevor Robertson, Reagan Mowery, Alan Guerrieri, Camden Brodersen, Pedro Yeverino, Blake McDoulett, Ty Warwick
2020 Prospects: Reed Kieny, Nick Hill, Reis Vernon, Hayden Riggins, Arturo Ramirez, Conor Wallace, James Griffith, JC Smith, Tabor Allen, Aidan Schiefer, Carlos Villagomez, Evan Anderson, Nico Ledesma, Colby McBerty
2021 Prospects: Bert Auburn, Joseph McFadden, Francisco Castillo, Ethan Spearman, Keaton Huff, Ty Reid, Nick Rhinehart, Brayden Blevins, Jordan Wallace, Luke Reynolds
Future Stars: Harry Wikoff, Brody Patrick
The 2018 Chris Sailer Kicking Spring Camp Tour finishes up that Sunday in Los Angeles, CA (May 6) and concludes with the big finale in Las Vegas on May 12-13, 2018. To more information and to register for future camps, visit ChrisSailerKicking.com
Then get ready for the summer of 2018….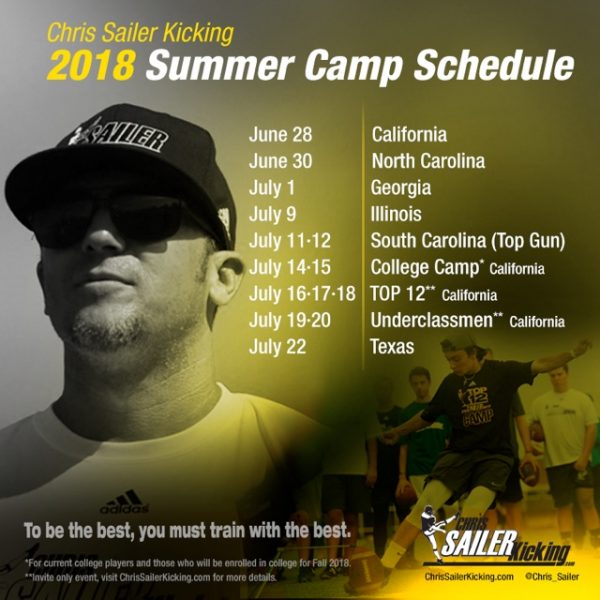 (487)