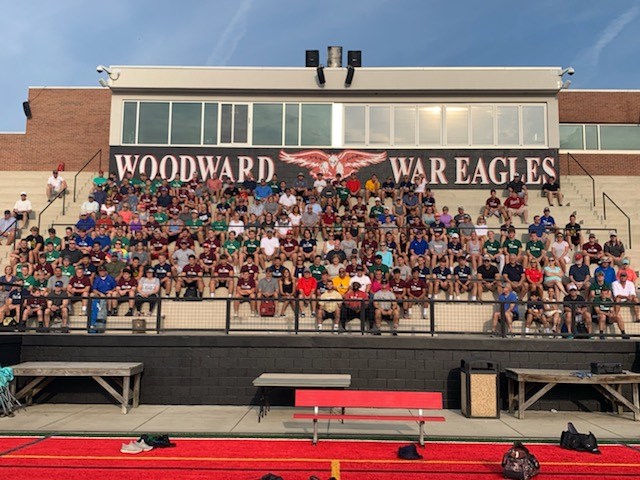 The 2019 Chris Sailer Kicking Summer Tour made its second to last stop in Atlanta, GA Sunday July 28th. This summer Chris Sailer and Rubio Long Snapping will run 11 camps in the states of CA, TX, IL, SC, NJ, NC, GA and HI. Over 1000 Kickers, Punters and Long Snappers will be in attendance in what is set to be one of the biggest summers in Chris Sailer Kicking history. The Atlanta camp was once again one of the largest and most talented along the tour. Take a look at the results…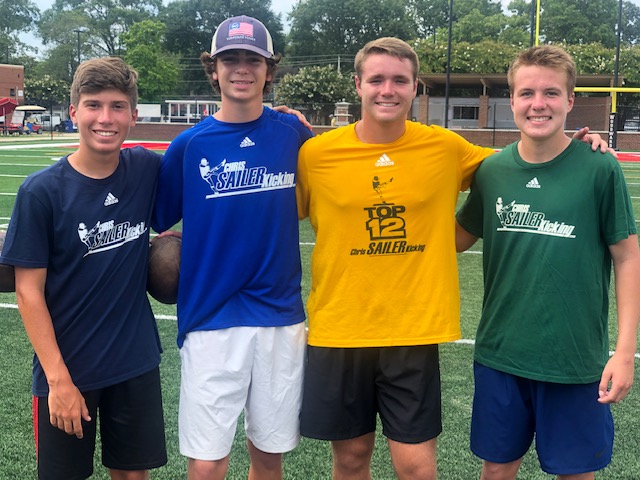 Overall Camp Champion – Brooks Sturgeon (2022, GA)
Brooks had a fantastic day both kicking and punting the football. On this day he won the Punt competition by averaging 40 yards, with 4.25 hang time. He has a great frame and excellent natural athleticism to be a future college level Punter. Brooks was also solid on both Field Goal and Kickoff. He has a bright future as a combo player with continued hard work.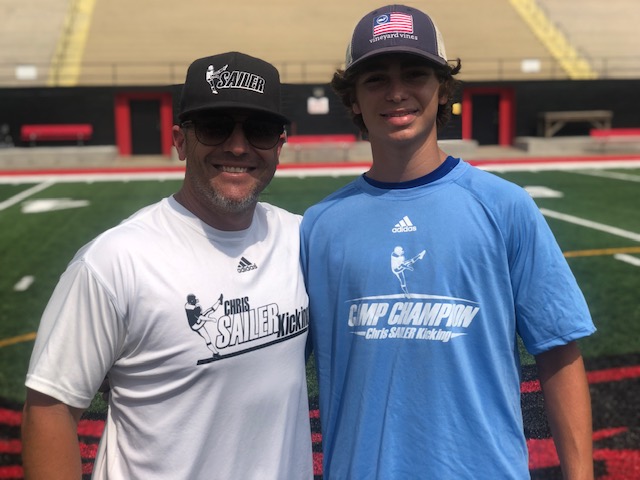 Kickoff Champion – Anderson Britton (2022, GA)
Anderson had an outstanding day at this first Chris Sailer Kicking Camp. He is a fantastic athlete with an explosive leg. He won the Kickoff competition by consistently putting the ball deep into the end zone with excellent hang time. Anderson was also fantastic on Field Goal. He quickly proved that he has the ability to to be a top prospect in the Class of 2022 for years to come.
Field Goal Champion – Brock Travelstead (2020, GA)
The Louisville scholarship commit, TOP 12 Selection & All-American Bowl Selection once again dominated the camp from end to end. He won the Field Goal Competition by going 6-6 with a long of 54 yards. Brock was also tremendous on both Kickoff and Punt. The longtime Chris Sailer Kicking specialist is a big time competitor that has great future ahead of him.
Field Goal Champion – Dalton McGowan (2021, GA)
The longtime Chris Sailer Kicking Kicker had another solid and consistent day. He won the Field Goal Accuracy competition on this day. He is a smooth and accurate Field Goal Kicker showing range of 50+ yards. Dalton is also strong on Kickoffs and is showing promise as a future Punter. He is one of the hardest workers out there. Big things ahead.
Class of 2020 Standouts: Brock Travelstead, Parker Hannon, Alex Romulo, Ezra King, Payton Broaddus, Cooper Kipp, Marco Rodriguez.
Class of 2021 Standouts: Dalton McGowan, Trey Turk, Braeden Haynes, Caden Costa, Caleb Bonesteel, Carter Potts, Conor Cummins, JT Carver, Drake Tabor, Tyson Giles, David Jenrath, Cole Hollingsworth, Jack Satterfield, Emmanuel Perez, Kade Pittard, Luke Stagg, Tyler Robinson.
Class of 2022 Standouts: Brooks Sturgeon, Anderson Britton, Canaan Kimball, Charles LaBee, Owen Hannah, Trey Stephens.
Class of 2023 Standouts: Harrison Brooks, Alex Mitchell.
Future Stars: Jackson Roberts, Justin Long, Robert Czeremcha, Michael Hill, James Gregory.
The 2019 Chris Sailer Kicking Summer Tour will wrap up with a FINAL camp in Honolulu, HI (August 25).
To register for all Chris Sailer Kicking Camps, visit ChrisSailerKicking.com
To be the best, train and compete with the best! #TeamSailer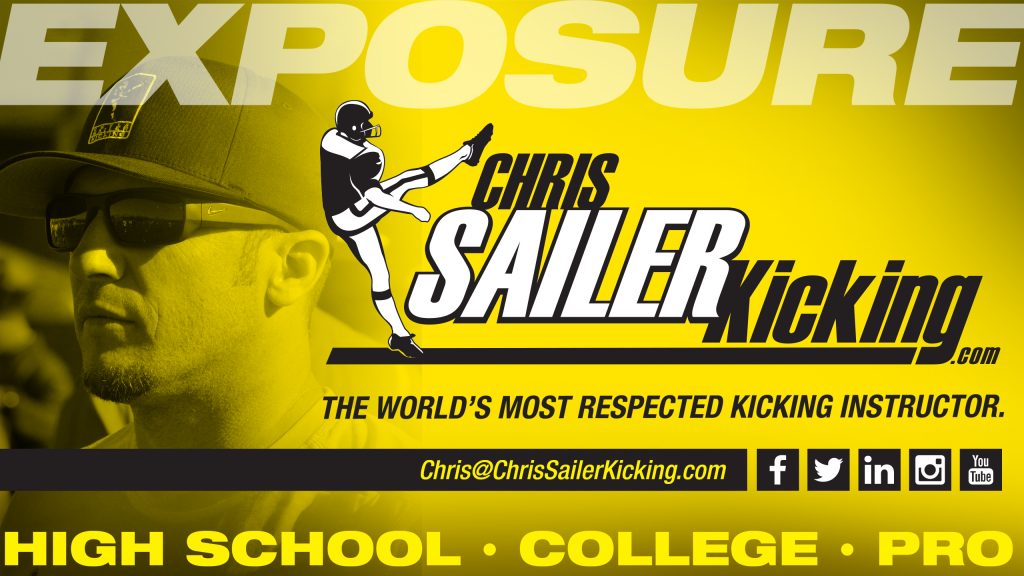 (542)