The 2019 Chris Sailer Kicking Spring Camp Tour is officially underway. Over the next 2 months 1000+ participants will attend Chris Sailer Kicking / Rubio Long Snapping camps in CA, TX, NC, GA, IL, WA, NJ, AZ & WA on the road to Vegas XXXIV (May 11-12). Instruction, competition, evaluation & national rankings will take place at each one of these camps. The ultimate goal is an invitation to the prestigious TOP 12 Camp that will take place in Los Angeles, CA on July 15-17.
The Road to Vegas XXXIV continued April 7th with a stop in Dallas, TX. Dallas, the state of Texas and the southern region of the country always produce incredible talent. From Justin Tucker, to Dan Bailey, to Randy Bullock… Who will be next? Take a look at a few hopefuls. Here are the results.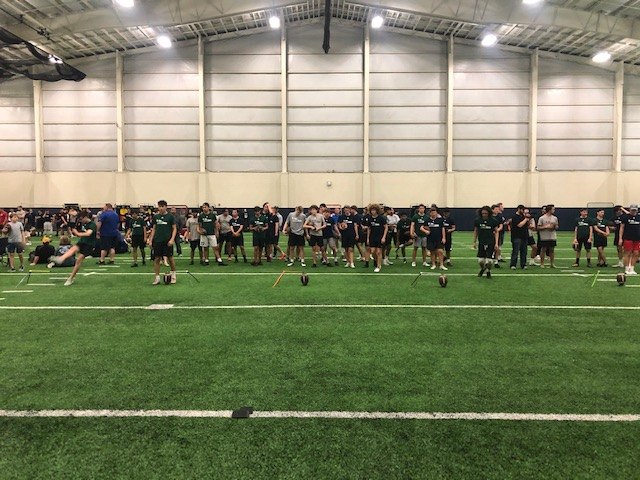 Overall Camp Champion – Joseph McFadden (2021, TX)
The long time Chris Sailer Kicking kicker continues to prove that he is an absolute standout. He went 8-8 with a long of 55 yards to win a major field goal competition. He hits a big time D1 ball off the ground. His ball gets up quick and he has 60+ yard range. His kickoffs are strong. Joseph averages 65+ yards with 4.0+ hang time. He is also a very capable punter. This 5-Star Kicker is a sure fire D1 Scholarship Pick. OFFER NOW!!!
Field Goal Champion – Nathan Ellisor (2021, TX)
Nathan had his best performance at a Chris Sailer Kicking camp yet. He is a phenomenal athlete that is really starting to come into his own as a Kicker. Nathan won a major field goal competition by going a remarkable 9-9, including 4 field goals of 50+ yards. His kickoffs are strong, near the top of his class. Nathan continues to elevate his game and is beginning to cement himself among the elite in America. Big things ahead… stay tuned.
Kickoff Champion – David Kemp (2021, KS)
David recently became a Chris Sailer Kicking 5-Star Kicker with his huge performance at Vegas XXXIII in January. He was equally impressive in Dallas. David has been attempting CSK Camps since his 8th grade year. He is mentally and physically strong and mature beyond his years. He won the kickoff competition by averaging 65+ yards, with 4.0+ hang time. His best ball measured 72 yards with 4.05 second hang time. He is ready for whatever challenge comes his way.
Punt Champion – Reis Vernon (2020, OK)
Reis is quickly becoming one of the most decorated punters in Chris Sailer Kicking history. He was a national champion kicker and punter at the 2018 Underclassmen Invitational. He followed that up by winning another championship (Punting) on the biggest stage at Vegas XXXIII this past January. On this day he won the major punting competition by averaging 45+ yards, with 4.5+ second hang time. Reis is also a D1 talent as a kicker. He competed extremely well at every position in Dallas. He is a major D1 recruit… OFFER NOW!!!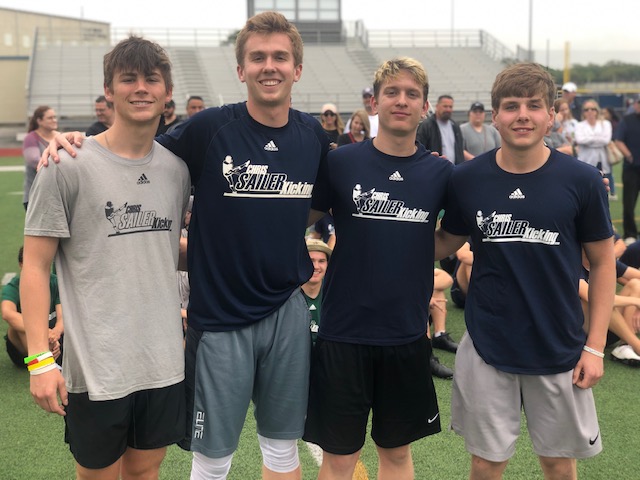 Class of 2019/JC Standouts: Gino Garcia, Daniel Esparza, Jared DeFelice.
Class of 2020 Standouts: Reis Vernon, Tabor Allen, Tanner Cragun, Carson Roberts, Connor Wallace, Aidan Clark, Aidan Schiefer, Arturo Ramirez, Carlos Villagomez, JC Smith, John Hoyland, Nico Ledesma, Rich McDermott, Anthony Raya, Connor Crookham, Evanston, Garneau, Huxley Richardson, Riley Nuzzo, Marco Rodriguez, Victor Robles, Wesley Winters.
Class of 2021 Standouts: Joseph McFadden, David Kemp, Nathan Ellisor, Bert Auburn, Aaron Wagaman, Matthew Eich, Francisco Castillo, Ethan Spearman, Ty Reid, Joshua Levin, Brandon Garcia, Colton Batten, Joshua McCormick, Sergio Rubio.
Class of 2022 Standouts: Carter Brown, Markus Merkelbach, Bradyn Ritchie, Brynden Southworth, Upton Bellenfant, Brody McNew, Michael James.
The 2019 Chris Sailer Kicking Spring Camp Tour will continue Chicago, IL (Sunday April 14), Atlanta, GA (Sunday April 28) & Vegas XXXIV in Las Vegas, NV (May 11-12, 2019).
Visit ChrisSailerKicking.com to register and for more information. To be the best, train and compete with the best! #TeamSailer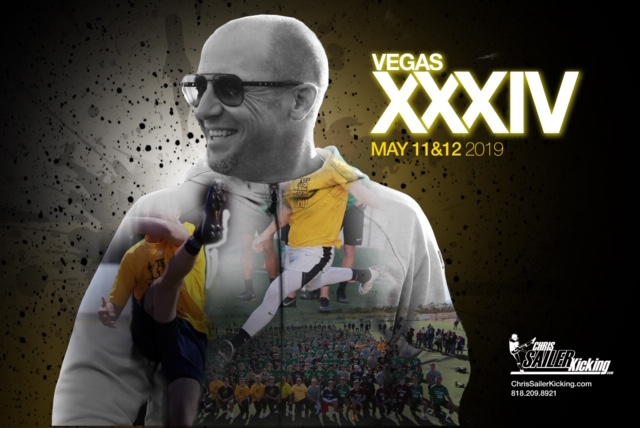 (352)