Chris Sailer Kicking traveled to Seattle, WA for the largest camp to date in the Northwest. Nearly 60 Kickers & Punters participated in this very popular growing camp. The weather was ideal once the competitions began and the results were impressive. Take a look at the results.
Overall Camp Champion: Kyle Sentkowski (JC, CA)
The long time Chris Sailer Kicking and 3-Time TOP 12 Camp Invitee was absolutely dominant. He won the kickoff competition on this day by averaging 70+ yards with 3.8-4.10 hang time. Kyle was also fantastic on field goal. He made 85% of his kicks and once again showed range of up to 60 yards. Kyle has proven on a consistent basis that he is ready for the next level. He is going to be a great player for a college football program.
Field Goal Champion: Micah Hertz (2019, CA)
Micah put on his best performance by far at Chris Sailer Kicking camp. He has developed into a fantastic college kicking and punting prospect. On this day he won the field goal competition by going 8-8 and hitting from as deep 55 yards out. His kickoffs are solid. Micah also does a nice job punting the football. Micah has the tools to challenge at both positions at the next level.
Punt Champion: Nick Kokich (2019, WA)
Nick is another long time Chris Sailer Kicking K/P that is really starting to come into his own. He was clearly one of the most talented punters in attendance. He averaged 40+ yards with 4.4+ hang time. His best ball measured 50 yards with 4.8 hang time. Nick is also a talented kicker. I project him as a P/KO specialist at the next level. He is a fine young man that has a bright future ahead of him.
Class of 2019 Standouts: Kyle Sentkowski, Micah Hertz, Nick Kokich, Alex Koga, Carter Pierce, Carter Shane, Dan Stewart, Gavin Dalziel, Jeff Nelson, Kurtis Delen, Nicholas Charles, Blake Hall, Bryce Kamrath, Daniel Garcia, Dillon Dennis, Griffin Cummins, Leo Cunningham, Logan Gilley
Class of 2020 Standouts: Ben DeVries, Colten Plieth, Daniel Yoon, Jed Michael, Joshua Villarino, Kaeo Rezentes, Nathan Gerde, Reid Little, Ryan Curran, Sam Stephenson, Arturo Ledesma, Connor Davis, Matt Torres
Class of 2021 Standouts: Cade Lujan, Francisco Castillo, James Werth, Zachary Moore, Gavin Dalziel, Jack McCallister, Nate Moore, Nathan Vani, Nik Bastian
Class of 2022 Standouts: Spencer King, Joseph Cutter, Marcus Merkelbach, Matthew Gerardo, Preston King, Ryan Beighton
Future Stars: Dilan Sadler, Alexander Wright, John Charles, Luke Scoma
The 2018 Chris Sailer Kicking Fall Camp Tour will continue with stops in New Jersey (October 14), Seattle, WA (October 21), Los Angeles, CA (October 28), Dallas, TX (November 18), Atlanta, GA (December 2), Phoenix, AZ (December 2), Chicago, IL (December 9) & Los Angeles , CA (January 13). The road all leads to Las Vegas, NV for Vegas XXXIII where the world's best will compete for an in invitation to the prestigious TOP 12 camp. For more information on the above recruits and future camp information visit www.ChrisSailerKicking.com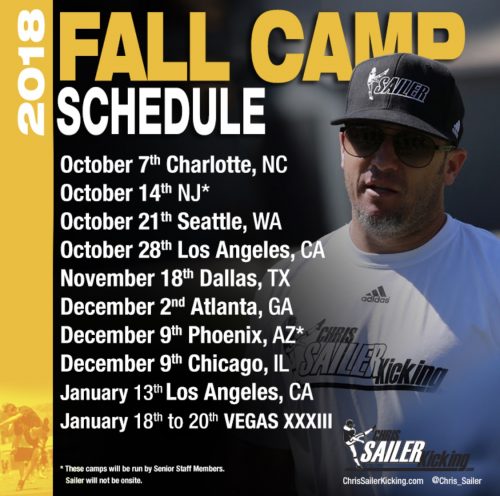 (423)