The road to Vegas 30 continued in New Jersey recently.  The largest group of specialists we've ever had on the east coast assembled to learn and compete at the highest level.  Athletes from 15+ states were in attendance looking to take their game to the next level.  For the first time since Will Reichard (2019, AL) did it in 2016, a freshman stepped up and won the camp.  Congratulations to Evan Warren from Maryland!  Take a look at all the results….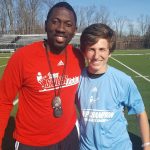 Overall Camp Champion – Evan Warren (2020, MD)
Evan did a great job stepping up when it counted the most on this day.  He won a major field goal competition and then was able to outlast his competition in the head to head finals.  He has a great leg for his age and shows excellent ability to kick under pressure.  Look for Evan to compete with the best kickers in this class over the next several years.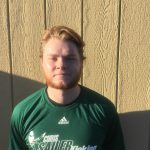 Field Goal Champion – Davis Wagner (2018, PA)
Davis is an excellent kicking talent.  He has one of the stronger legs in his class and shows big time potential.  He has great range on field goal and hits an outstanding "A" ball.  Also hits a nice ball on kickoff at times.  Once he improves his technique and consistency, he will challenge at any college level.  Look for Davis to have a big showing at Vegas 30 this May.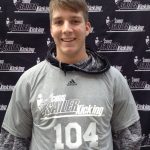 Kickoff Champion – Zach Sterr (2018, NJ)
The long time Chris Sailer Kicking K/P is really starting to come into his own.  He is hitting a strong ball off the ground on field goal.  His kickoffs are impressive and nearing D1 ready.  He also has the size, strength and athleticism to dominate as a punter.  This is an area that he could make a name for himself with continued hard work.  Zach is a talented combo prospect that will have a nice college career.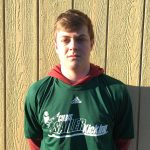 Punt Champion – Brandon Caffrey (2018, PA)
Brandon is a very good high school punter.  He has a big leg and shows he can hit a college level ball at times.  He does a great job of stepping up under pressure.  As he continues to refine his technique and become more consistent, he will catch the eye of college coaches.  The tools and potential are there for Brandon to play at the next level.  Look for Brandon to have a big off season.
The Chris Sailer Kicking Spring Camp Tour continues with stops in Chicago, IL (April 23), Atlanta, GA (April 30) & Los Angeles, CA (May 7). The our ends with the largest exposure camp in the World…. Vegas 30 (May 13-14).  To be the best, train & compete with the best.  For more stats, rankings, future camp dates, etc. visit www.ChrisSailerKicking.com #TeamSailer
(355)