The 2017 Chris Sailer Kicking Summer Camp Tour hit Los Angeles, CA on Thursday July 27th. This was one of the largest regional camp to date and was loaded with talent. Specialists from over 10 states were in attendance ready to learn and compete prior to the start of a highly anticipated 2017 football season. Take a look at the results.
Overall Camp Champion:
Jaime Medina (JC, CA) – Jaime is longtime Chris Sailer Kicking student and recent bounce back from Sacramento State. He is an experienced combo player that performs with great confidence. On this day he won 2 of the 4 major competitions, coming in first for both field goal and punt. Jaime has 55+ yard range on field goal and gets tremendous height on his ball. He hits a D1 kickoff with ease. And his punting is equally as strong. He won the final competition with a 50 yard, 5.30 second punt. Jaime should be the top junior college specialist is America this coming season.
Field Goal Champion:
Jason White (2019, CA) – Jason is really starting to come into his own. After a strong performance at the recent Underclassmen Invitational in Tampa, FL, he was able to follow it up with a competition win in CA. He has a great leg and does very well under pressure. He won the competition by going 7-7 with a long of 55 yards off the ground. Jason is proving that he has the tools to take his game to the college level. Look for him to do very well this coming season.
Kickoff Champion:
Kevin Boermeester (JC, CA) – Kevin is another long time Chris Sailer Kicking student. He was strong from start to finish in all areas of the game. He took the Kickoff championship with a final kick of 71 yard with 4.03 second hang time. He was also solid on field goals and showed that he will contribute as a punter as well. Kevin has the tools to be a top junior college prospect this coming season.
Punt Champion:
Andrew Rodriguez (JC, CA) – Andrew proved once again that he is one of the best in the nation. He competed very well on both field goal and kickoff. He then stepped up and won a major punt competition by punting with great consistency and showing that he can hit a big time D1 ball. He averaged over 45 yards per punt with 4.5+ hang time. Between Medina, Boermeester and Rodriguez the junior college ranks our in good hands this coming season.
Junior College Standouts: Jaime Medina, Andrew Rodriguez, Kevin Boermeester, KC Akubuo-Onwuemeka, Paul Rodriguez, Fernando Buenabad, Juan Herrera, Anton Xeros-Burgos.
Class of 2018 Standouts: Antonio Loera, Chris Wood, Dylan Williams, Holden Kooiker, Holden Remme, Jonathan Trujillo, Lane Kast, Mark Meader, Ryan Redman, Spencer Corona, Carson King, JP Rybus, Edeson Escobar, Eric Stranz, Hoyoung Sohn, Jake Amigo, Jimmy Duchesne, Kevin Ryan, Louis Hernandez, Max Casper, Nicholas Gardner, Seppi Ortman, Travis Benham, Tyler Werner, Max Meyers.
Class of 2019 Standouts: Bryce Peters, Cameron Sharafatian, Christopher Abbes, Dylan Orr, Jason White, Nick Barr-Mira, Ramzee Jaridly, Tanner Olivier, Will Powers, Gabriel Trujillo, Aaron Rodriguez, Harry Hill, Jack Austin, Kevin Aranda, Matthew Ramirez.
Class of 2020 Standouts: Anthony Meader, Ben D'Aquilla, Fabien Guillen, Noah Carlton, Sam Stephenson, Cristian Godoy, Elise Chaffin, Jake Moos, Matthew Riella, Nathan Michel.
Class of 2021 Standouts: Adam Awaida, Matthew Sailer, Jay Kartub, Trevor Morris, Tristin Walters.
Future Stars: Daniel Campuzano, Braydn Ritchie
The 2017 Summer Camp Tour has been absolutely phenomenal to date. Chris Sailer Kicking will make one final stop in Honolulu, HI on August 26th. The 2017 Fall Schedule is now up and open for registration. Chris Sailer Kicking will make stops in NJ, WA, CA, NC, GA, OH, TX and will wrap up with the largest specialist camp in the World… Vegas XXXI in January of 2018! For more information, visit www.ChrisSailerKicking.com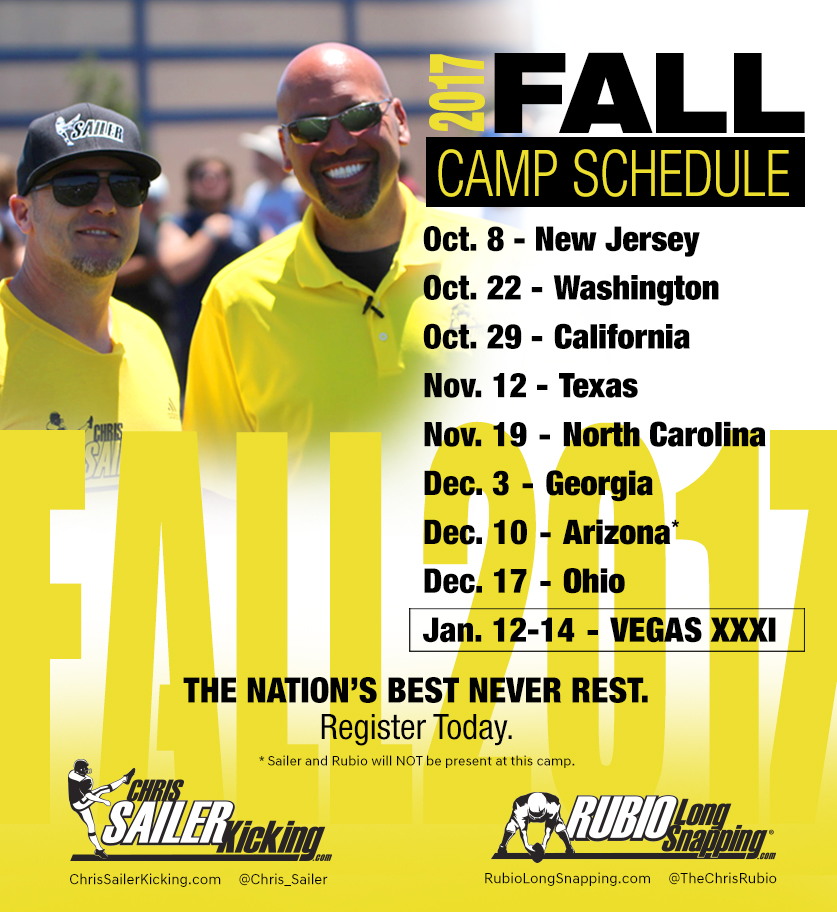 (458)